How to log into my ManagePlaces account
ManagePlaces is accessible from any device with a Web browser.
Watch our short tutorial or follow the steps below:

You can access the platform by
following this link:

https://app.manageplaces.com/users/sign_in




adding ManagePlaces as a

Home App on your mobile devices by following the instructions here.

clicking on the "Sign In" button on the ManagePlace's website:


Sign in
4. Once you access the

login page

, you will be asked for your username (which is the email address you used to accept your invitation) and your password: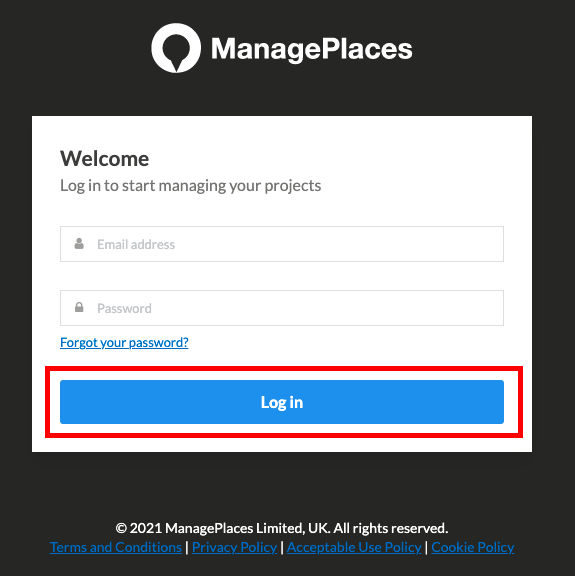 Log in window
5. Type in your details, and then click the blue "Log In" button.

Related Articles

Synchronise ManagePlaces with Xero (Pro Plan)

ManagePlaces provides you with the ability to track your income and expenditure throughout the duration of your project, however you may wish to keep track of these finances in a dedicated accounting package. ManagePlaces allows you to synchronise ...

Importing CSV of existing projects into ManagePlaces

Follow our short tutorial on how to import a project CSV file: Follow the steps below to import your CSV file: With our data import tool you can import a large list of tasks and task groups for a project. It uses a simple CSV (comma-separated value) ...

How to add ManagePlaces to Home Screen as an App icon?

ManagePlaces can work very similarly to the rest of your smartphone Apps. To add ManagePlaces as an App icon to your iOS or Android home screen and remain logged in, please follow the below steps. Note this will also prevent Location Access ...

How to create KPI

ManagePlaces allows you to define and track KPIs across projects with ease. You can set the measurability parameters of each KPI you define and log across projects in a matter of clicks. Watch our short tutorial and/or follow the steps below: ​ 1. Go ...

How to upload documents

There are two ways to upload documents in ManagePlaces: Directly into a project: useful for project-specific documents and files Directly into your account: useful for documents that are account-specific. Both methods are very quick and easy: 1. ...