Can I sort projects by criteria and have them categorised on the projects page?
Yes. You can add filters in Projects as well as Tasks, which will remain until you remove them.

Watch our short tutorial:

1. Go to the respective view, e.g. "Projects" from the top menu, then select the filter icon on the top-right.


Filter option
2. You can select a filter (e.g. Name for Projects, or for example Status for Tasks) then the Comparison (e.g. "in list" to include multiple values) and finally the values themselves.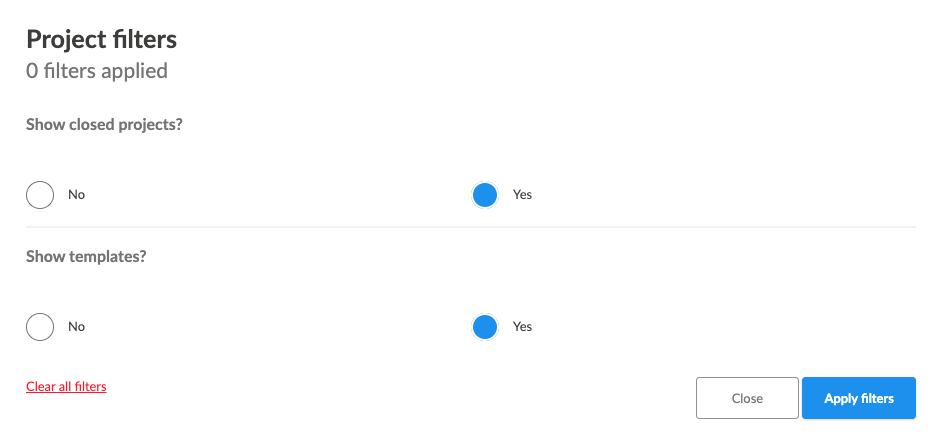 Project filters
This is useful where there is a lot of information, for example in 'Task views' where you want to filter by a specific Status. Equally, the button next to the Filters will order your items by the preferred column, for example based on their Due Date.

Related Articles

How to print a Gantt chart (single or multi-page) and export in PDF

This article will guide you through exporting your projects' Gantt charts as well as printing in single or multi-page format. Note that the Gantt 'print' feature on ManagePlaces will generate a single PDF with the current viewer's settings (such as ...

Importing CSV of existing projects into ManagePlaces

Follow our short tutorial on how to import a project CSV file: Follow the steps below to import your CSV file: With our data import tool you can import a large list of tasks and task groups for a project. It uses a simple CSV (comma-separated value) ...

How to create a task

Watch the quick video tutorial: Follow the steps below to create your first task: 1. Go to "Projects" and click on the name of the project you want to add a task to. If you don't have any projects yet, follow this instructions to create you first ...

How to create dependencies between tasks

In ManagePlaces you can easily create a task dependency that is "Start after" (i.e. your new item will depend on the previous item). This is how it works: ​​ 1.1. Navigate to the gantt chart view ("Projects" > "Tasks" > "Gantt") Gantt view 1.2. You ...

How to create a milestone

A milestone represents an important date within you project, such as the start of a development, or a deadline for work to be completed by. When viewing your project's Gantt chart, milestones are represented with a diamond icon. Milestones can be ...