ManagePlaces provides you with the ability to track your income and expenditure throughout the duration of your project, however you may wish to keep track of these finances in a dedicated accounting package. ManagePlaces allows you to synchronise all of this financial information with one or more Xero accounts.

When you connect Xero to ManagePlaces, it will set up a two-way-synchronisation. This means that any financial data you create on ManagePlaces will also be created on Xero, and anything created on Xero will also be created on ManagePlaces. Currently, we will do this for

Invoices

Bills

Purchase orders

We also synchronise a few other things, however these are not setup with a two-way-synchronisation. Instead, we will prompt you to import them from Xero. This is done so that we can use these across multiple Xero accounts which we'll look at later. These entities are:

Items

Contacts

Accounts

Currencies

Tax rates



1. About the integration

ManagePlaces provides three different configurations for connecting to Xero:

All projects

Specific projects

Special Purpose Vehicle or SPV

When setup for All projects or Specific projects, ManagePlaces will automatically associate financial records with the relevant projects. Whilst both of these options function in the same way, there is a key difference:

All projects will do this for every project in your account, including any new ones created

Specific projects will only do this for the projects you explicitly choose

Note that if you setup an All project integration, you cannot add any additional Xero accounts, as a project cannot be configured under multiple integrations.

The SPV option is a one-to-one mapping between a project and a Xero integration. ManagePlaces will simply associate all financial data from Xero with the selected project. With this setup, you will be able to have one Xero integration per project, allowing all of your projects to have separate finances. This guide will run through the SPV option.

2. Connect to Xero
2.1. Navigate to "Settings" > "Integrations" and click on "Add integration". You should now have the option to connect to Xero.

Settings
2.2. Click "Connect" and then "Authorise now" now on the next screen. You will now be redirected to Xero where you will be asked if you want to grant ManagePlaces permission to access your account.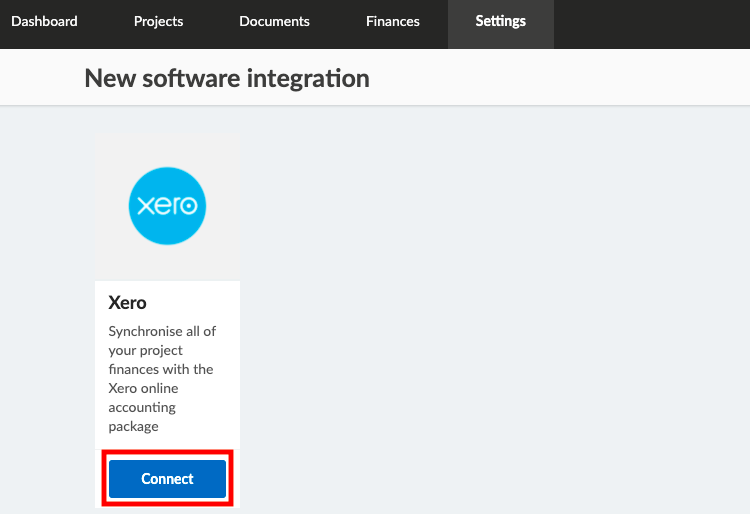 Connect to Xero
Authorise Xero
2.3. Log into your Xero account and choose the right organisation for the synchronisation.

Xero login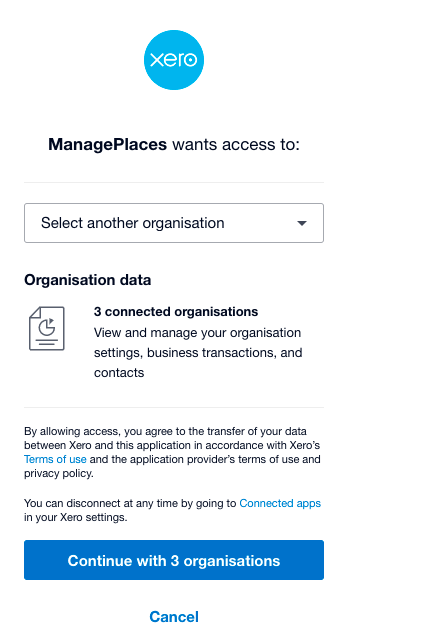 Choose organisation
2.4. Once authorised, you will be redirected back to ManagePlaces where you will start configuring this integration. We'll start by confirming the organisation, naming the integration, and choosing the projects that it will work with.

Confirm connection
2.5. Here we are choosing a single project for the SPV setup. Click "Next" to continue.

Choose a project
2.6. Import missing data

The next part of the configuration is to import any missing data into ManagePlaces. In order for ManagePlaces to synchronise your financial transactions, we also need to know about the other financial entities. There are 5 sets of entities we must import:
Accounts


Currencies

Contacts

Items

Tax rates
By default all of the entities will be selected to be imported, however you can deselect those you do not wish to import.
Once you have selected all of the entities you wish to import, click the "Import selected" button at the top of the table.
Repeat this process until everything has been imported.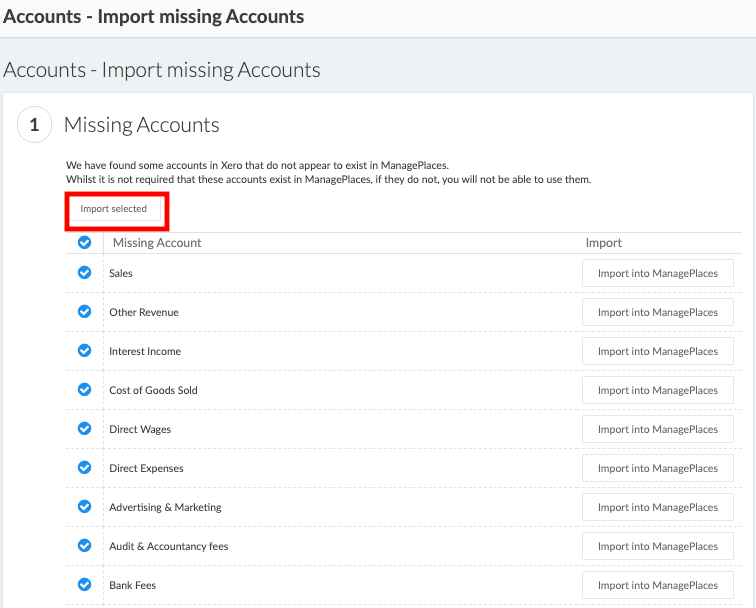 Import missing items
The final step of the configuration is to "map" the entities. This is very important, and lets ManagePlaces know which entity on ManagePlaces points to which entity on Xero. If this is your first time connecting to Xero, and you have imported everything in the previous steps then ManagePlaces will automatically perform this mapping step for you, however if you are reconfiguring, or already had pre-existing data you will be asked to match them up.

Here we can see ManagePlaces has already configured everything, so we can simply click "Next"
at the bottom of the page. Repeat this until you reach the final screen.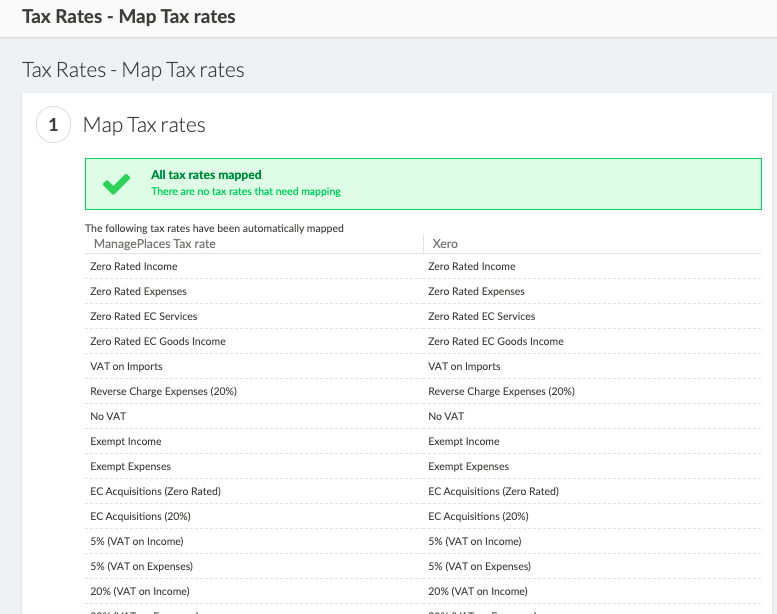 map tax rated
4.3. Once you have finished configuring your integration, ManagePlaces will start to synchronise your data from Xero. You will receive a notification when it is finished, but please note this may take a while depending on how much data you have. You can continue to use the system whilst this is taking place however. Once the data is synchronised, you will see all of the invoices, bills, and purchase orders it has imported through the project chosen in the first step.

Synchronisation with Xero
5. Notes and limitations
Importing and Mapping
Whilst it's entirely up to you what you import, anything missing may result in financial records being discarded. If for instance you choose not to import and map an "Account" that has 100 associated invoices, none of those invoices will be imported.

Existing data in ManagePlaces
If you have created invoices, bills, or purchase orders within ManagePlaces prior to connecting to Xero, these will not be created on Xero. Only newly created entities will be created on Xero after you have set up the integration.

Non-SPV integrations
In order for ManagePlaces to be able to automatically link financial records to your chosen projects, you must include the project number in the reference field on Xero. For example, if your project has the number 'P-0012' and you create a new invoice directly on Xero, you must include this number in the invoice 'reference'.